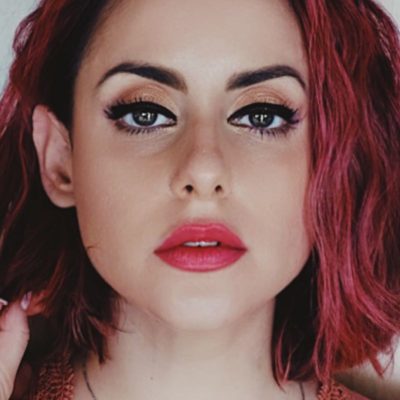 Corinne Fisher
CORINNE FISHER is a stand-up comedian, writer, director & actor originally from Union, NJ and currently residing in New York City. Most recently, she directed the debut comedy special from her and her longtime comedy partner, Krystyna Hutchinson. The special is set to air in February 2022. The duo is most known for co-creating and co-hosting their groundbreaking, genre-creating GUYS WE F*CKED: The Anti Slut-Shaming podcast — a vulnerable firsthand look into modern female sexuality from a comedic perspective — which began tearing up charts in December 2013. Over eight years later, the show boasts millions of listeners nationally and internationally and has inspired dozens of female-led comedy/sexuality shows. The podcast has hit #1 on the iTunes comedy charts multiple times and has been featured in Vogue, Interview, Esquire, The Huffington Post, The Daily Beast, Splitsider, Mother Jones, Perez Hilton, Elle, A.V. Club, E! News, People, US Magazine, Bust, CNN, and The Village Voice as well as on Sirius Radio, and NBC's Last Call with Carson Daly. High-profile guests include Amanda Knox, Amber Rose, and Fran Drescher. The podcast was also turned into a book by HarperCollins entitled F*CKED: Being Sexually Explorative and Self-Confident in a World That's Screwed and the duo was asked to give a TEDx talk exploring topics from their show.
Corinne first made a splash in the comedy scene with her debut one-woman show Corinne Fisher: I STALK YOU (Dir. David Crabb) which had a run at The Peoples Improv Theater in the Summer of 2010 and was a featured show in Time Out New York. Since then, she has been a regular on the stand-up scene selling out shows at world-famous clubs like The Comedy Store, New York Comedy Club, The Stand, and Caroline's on Broadway and theaters such as The Wilbur in Boston, the Athenaeum in Chicago, and the Tribeca Performing Arts Center in New York City. Fisher has also been selected to perform at the prestigious Just For Laughs Comedy Festival in both Montreal and Toronto, Moontower Comedy Festival, Boston Comedy Festival, and cult favorite Skankfest. She's been seen on FOX's LAUGHS and her show with fellow comic Katie Hannigan THE COMEDIENNE PROJECT (Dir. Ted Alexandro) was selected for the NYC Fringe Festival.
Fisher remains an innovator in podcasting, having co-created the WITHOUT A COUNTRY podcast which she currently co-hosts with comedian Shayne Smith, a weekly news shows that covers stories using a slew of sources from various political perspectives. She also previously co-hosted and co-created TWO LESS LONELY GIRLS, a podcast for adult Justin Bieber fans with comedian Rosebud Baker.
Right now, Corinne is working on writing and producing several projects including the cartoon series MYSTERY SQUAD GALS created by Ryan Duff. In an unexpected plot twist, she also took over her Dad's baseball card and horror collectibles store, Perfectly Centered, in 2021.